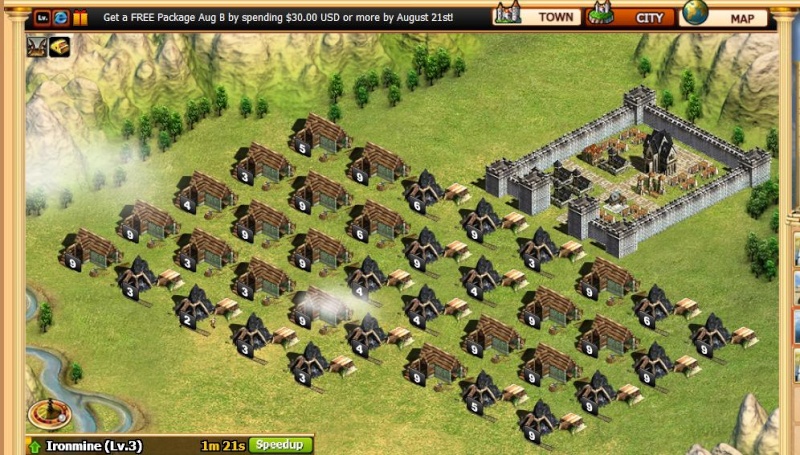 This is an image of the resource fields with a Level 9 Town Hall.
INSTRUCTIONS:
Start off building 9 cottages. Sending resources from another town will really help this process. Get them all to level 2 asap. After doing this, go to the city view, and start building the resources. You will need 1 level 2 Quarry for the time, so put that in first, followed by iron mines and sawmills. Make sure to stay half and half on these, ending up with 1 more sawmill if you only have a level 9 town hall. After upgrading these with the speedups, you will go back into the town view, and you will start constructing all of the 1's on the list attached, as well as the barracks attached in the list.
EDIT
Make sure to also add a level 5 farm. This is needed for the stable, and the stable is needed for a relief station. After the relief station gets to level 9(stable must also be level 9) you can remove the stable from this town.
1 Level 9/10 town hall
1 Level 8-10 walls
1 Level 1 Inn
1 Level 9 Feasting Hall
1 Level 9 Stable
1 Level 2 Forge
1 Level 1 Workshop
12 Level 4 barracks(to start)
9 Level 9 Cottages (Can also be done with 10, lower taxes and more pop this way if you do it this way -1 barracks)
1 Level 9/10 Academy
1 Level 9 Rally Station
1 Level 9 Rally Spot
1 Level 5 Embassy(can be higher)
1 Level 9 Beacon Tower
1 Level 9 Marketplace
Resources:
1 Level 2 quarry
19 Level 9 ironmines(20 when walls finish)
20 Level 9 Sawmills
When you get the walls up to level 9, you are going to demolish 3 things in the town. The workshop, the forge, and the 1 level 2 quarry that you put in. You will put barracks in the town, and a sawmill or iron mine in place of the Quarry. Once you reach level 9 on the Feasting Hall, you will demolish the inn, and put in another barracks in it's place.
*EDIT*
After getting your relief station and horseback riding both to at least level 9, it is possible to take out the stable, and add another barracks or a cottage in its place.
*END*
After all of this is finished, you will start upgrading all of the barracks up to level 9. For starting off level 4 barracks work. After all, this is an archer production town right?
Good luck to all. Any questions can be directed to me via game, or posting here.
Inside town pics(incomplete)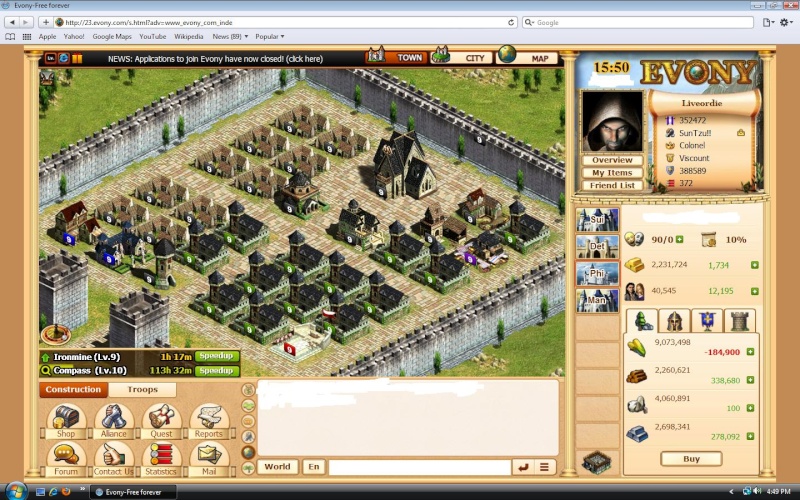 City view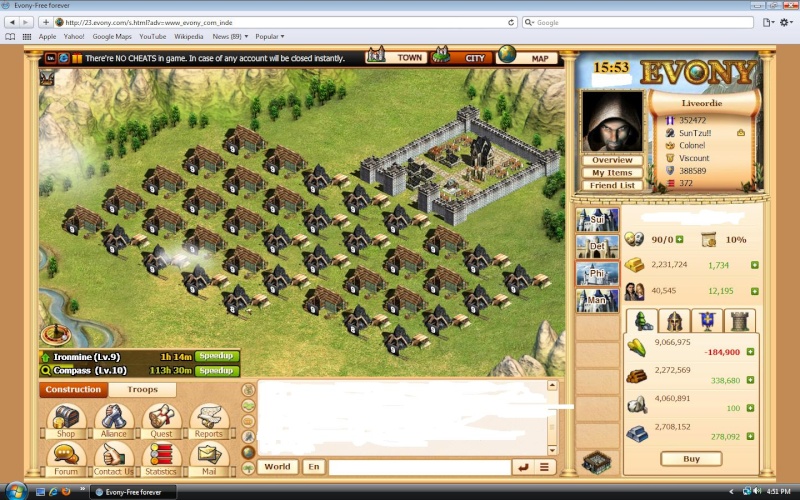 Last edited by Admin on Sun Aug 23 2009, 03:19; edited 5 times in total
Picture of a finished inside will be posted soon. Stay tuned.
This city looks good.
But a few things to point out;
You only need a level 1 stable for a level 9 relief station. You only need a level 9 stable for HBR, which you might already have in another city.
You can take the forge out as soon as you make a level 1 workshop (If you want to keep it at level 1 and don't have level 9 metal casting)
Other than that, its a great guide

EDIT:
You do not have to have a level 9 relief station, you only need a level 8.
Level 8 and 9 do the same thing


KrussianRussian




Posts

: 13


Join date

: 2009-07-20


Age

: 25


Location

: BC, Canada





Similar topics
---
Permissions in this forum:
You
cannot
reply to topics in this forum